Sherri Shepherd Weight Loss — How Much Has She Lost and How Did She Do It?
Sherri Shepherd's struggle with family life is no surprise. And her struggle with health is not a different matter either. Paying child support for two ex-husbands is indeed troublesome, but there are more things that matter.
Shepherd's ongoing struggle with Type 2 Diabetes was something she was never taking lightly of since she lost her mother to the wretched disease. But it wasn't just that which made her conscious about getting in shape. Some heart-wrenching words from her son, Jeffrey Charles Tarpley, made her completely aware of staying on this earth for a lot longer to see her children grow up.
Sherri's son was a big part of her realization of the need to lose weight.
Photo Source: Splash News
Sherri Shepherd lost about 30 pounds since deciding on a weight loss journey in March 2018 by February 2019 with the help of a Keto diet & small lifestyle changes since June/July 2018. Her son's words triggered her. She gained some again and announced she restarted the Keto diet in July 2019. But she'd also lost 40 pounds in 2013 since the Type 2 Diabetes diagnosis in 2007. She's even detailed the earlier journey in her book, 'Plan D'.
Sherri Shepherd Lost 40 Pounds in 2013 Following Her Type 2 Diabetes Diagnosis in 2007
Type 2 Diabetes has haunted the comedian's life for a long while now. Since being diagnosed in 2007, she decided to take an extra step in weight loss for the sake of her son not being left alone. Then, she changed her ways and took help from her doctor in order to lose 40 pounds. The ways she suppressed her diabetes in the journey is detailed in her 2013 book, 'Plan D: How to Lose Weight and Beat Diabetes Even If You Don't Have It.'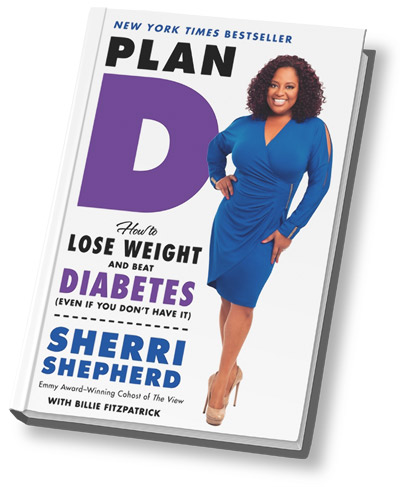 The book was an NYT bestseller.
Photo Source: Sherri Shepherd
Type 2 Diabetes (she calls it "the big D") had taken her mother's life, and for years, she'd been told she too was pre-diabetic. She'd ignored her doctor's advice to lose weight for all those times and thus piled up her chances to get full-blown diabetes until she really did.
Recommended: Jenna Jameson Is Also Sharing Her Weight Loss Journey on Instagram
It could've taken her life too, but she says it actually saved her. "If I didn't have diabetes, I would probably be at the International House of Pancakes eating a stack of pancakes with butter and syrup," Shepherd said in 2013. "I would probably be 250 pounds. I would not be going to the doctor. I probably wouldn't be married to my husband, Lamar Sally. I wouldn't be healthy for my son, Jeffrey." [She's divorced from Lamar Sally, but it's unclear since when, while she also has a daughter with him.]
The custody battle was a messy one.
Photo Source: FilmMagic
Shepherd weighed 197 pounds at one point but was down to 157 pounds by the time she wrote the book. A full-blown 40-pound weight loss success. After the medications, she ate better and exercised regularly to keep the blood sugar level better. Here are the three steps she took to lose 40-pounds as detailed in her book.
Watch Your Sugars: Avoiding to eat simple carbs by themselves really does do the trick. Filling up on foods low on the glycemic scale and combining them with healthy proteins is much better. One of Shepherd's go-to meals is a small portion of pasta with a palm-sized portion of grilled-chicken and some leafy greens.
Reform Your Relationship With Food: She used the "plate method" rather than weighing everything she ate. It means filling half a plate with low-glycemic foods [green vegetables/salad], one-fourth of it with starchy vegetables or beans and the last one-fourth with a lean protein like grilled salmon, chicken breast or spicy tofu.
Exercise No Matter What: In terms of exercise, Shepherd's biggest rule is to move for at least 15 minutes a day. And it doesn't have to be at the gym, household chores can do you really good.
The Success Didn't Last, Jeffrey Told Her Something That Completely Changed Things for Her
Of course, maintaining a perfect body isn't easy. Sherri Shepherd kind of gained almost all she lost in the years that followed until one day, things hit her hard. As she's been open about her weight struggles, she's also shared why she really got back to be better for her son.
Regardless, she always had the confidence to flaunt her body.
Photo Source: REX/Shutterstock
In a July 2018 interview on 'The Wendy Williams Show', she credited her son as the inspiration behind her second weight loss stint, saying, "Sometimes you go through stuff and you want to just grab something sweet. Ex-husbands, things like that. And I was doing that, and Jeffrey was in the backseat, Wendy, and I was eating something I wasn't supposed to."
Suggested: Kevin Smith Also Had a Health Strike to Decide on Weight Loss
" 'He said, 'Mommy, if you die, who's going to be my bodyguard?' I said, 'What are you talking about?' 'Who's going to watch me?' And literally I said, 'Sherri, you've got to do something different.' "
Shepherd used Instagram as a means to tell everyone how she lost weight.
Photo Source: Sherri Shepherd, Instagram
She's also shared about that moment on Instagram. "As I was eating a Reese's Cup, Jeffrey asked me who was going to be his bodyguard if I died ... hit me like a ton of bricks," she wrote in the caption of an Instagram post amidst her weight loss journey in August 2018. "So much going on... I was trying to numb myself with food so much so that my son was having anxiety attacks. I realized God had given me everything I needed to take control of my health..."
Here's How Much Weight Sherri Shepherd Lost and How
Sherri Shepherd announced in February 2019 via Instagram that she'd reached 159 lbs on the scale from 189 lbs last year. She did add she was hovering in 159-169 lbs range. She took sugar and cold turkey off her list in March 2018 as her progress started showing in April 2018. She then added a Keto diet in June/July 2018 to really get that flow. Her waistline was 47" and was 35" back then. Her wished waistline is 27".
It almost seemed like she lost more than just 30 pounds.
Photo Source: Sherri Shepherd, Instagram
In terms of the how she did it, she wrote in that February 2019 post's caption, "just want to encourage you to take one step towards your health... then another... then another... small changes everyday (more water... more sleep... exercise... meditation... prayer... forgiveness... less sugar... less carbs...) yield big #results in one year."
Here's the Struggle Christina Aguilera Had to Endure for Weight Loss
The mother-of-two had also declared in December 2018 that she'd lost 25 pounds since starting the journey. "Over 260 days #sugarfree ... can't begin to describe how #amazing I feel," she wrote in the caption of the Instagram post that month. "Energy, clarity of thought and mind. Focused ... patient w my son. Hearing from God a lot more clearly. Present. I've done this slowly and steadily and since March I've come down over 25lbs. This is not a fad- it's my life that is at stake. - It feels so good to feel #good."
She lost 25 pounds by December 2018.
Photo Source: Sherri Shepherd, Instagram
She's got immense support from her fans on her social media for a change she's been so open about and worked really hard for her. But there will be ups and downs.
She Gained Some after a Few Months and Announced Her Determination to Lose 15 Lbs in 6 Months
Despite working really hard for her weight loss, it's not strange there would be a few hiccups along the way. And in Mid-July, she took to Instagram to share that she had gained quite a few pounds and was keen on getting back on the Keto diet to shed some extra layers again.
"Have to admit I gained some lbs bc I've been traveling non-stop, eating out & no exercise," she wrote in the Instagram post in July. "I always love a good incentive to kickstart getting my weight back on track so I partnered w @healthywage ... I bet on myself that I could lose 15lbs in 6 mos..."
She's still trying.
Photo Source: Sherri Shepherd, Instagram
There's an update waiting on that partnership with 'Healthy Wage', but as it stands, she's continuing on that fitness journey, doing pushups every day and even some boxing along the way. As far as the progress in quarantine is concerned, she's been seen cooking up something or other for her diet too.
Stay tuned and connected to IdolPersona for more celebrity Weight Loss content.